Yes, your child's room really can grow with her!
As an interior designer, I work on homes from top to bottom. But, I absolutely love creating children's rooms! It's always so fun to get to know the child that will play, sleep and pitch fits in the space and to include different elements of their personalities in the design. As a mom, I also know how quickly kids grow up – sheds tear – and what a challenge that can be when it comes to constantly updating their rooms. So how can you create a space that will grow up with your kids? Let's dive in into some of the must-have elements when it comes to kids' rooms.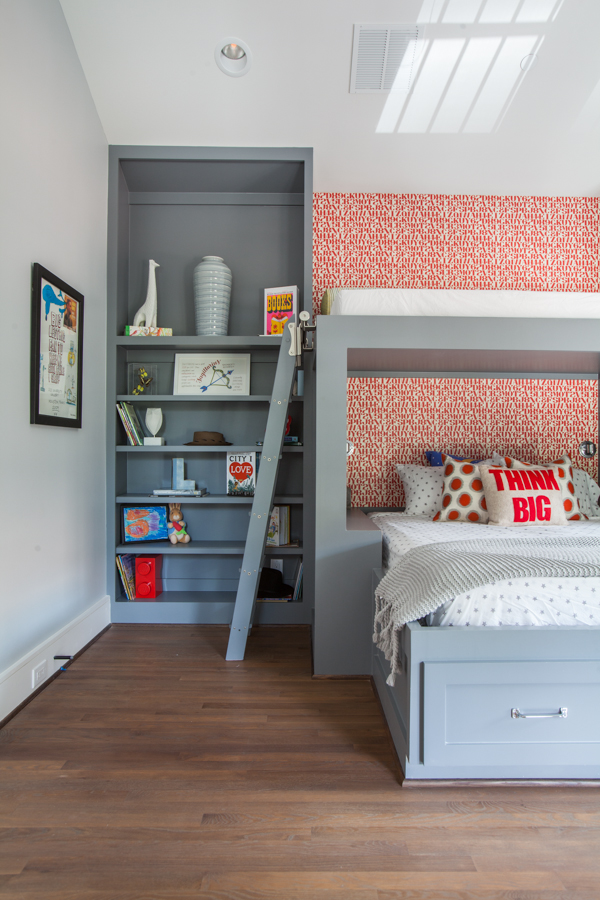 Live in color
When creating a space your kiddo will love, one of the first things that comes to mind is – wait for it – color! It gives the room a fun, playful vibe and makes it feel like his or her very own. Neutral walls paired with brightly colored furniture or bedding is a great way to add a pop of personality without a big commitment.
Plus neutral walls are the perfect canvas for your teen's photo collage. Don't be afraid to go big with an accent wall or a painted ceiling either! Just be sure to avoid painting all 4 walls in a bold color – you will tire of this way faster than you may imagine.
Get creative with your space plan
The room layout is the first thing to think about when designing a room…even more so if your kids will be sharing the space. Bunk beds are a classic space saving idea and, even when purchased "off the shelf" you can customize and personalize them.
Place a desk under a bunk bed or create a cute reading nook on the top bunk if you're limited on space. Cushions on top of storage drawers or a statement accent chair add seating without adding clutter. It's the perfect place for your teen to lounge while doing homework (ahem…or texting with friends).
Storage, storage, and more storage!
One of the most important things to have in your children's room is storage. When they're younger, shelves are great for displaying art projects and treasured books and drawers help keep toys somewhat organized. At the very least you won't have to worry about stepping on toys anymore!
As your children grow up, the shelves can be transitioned to show off their awards or memorabilia. Drawers are perfect for clothes storage and keeping them neat and tidy.
Want your kid's room to grow with her? Let's recap: start with the basics of color, space, and add plenty of storage when you're thinking about designing a room that can grow with your mini-me.
If you feel you may need a little design help – and I mean more than you can glean from Pinterest and Insta – we would love to chat with you about designing for your family. Give me a shout!
XO  |  LU